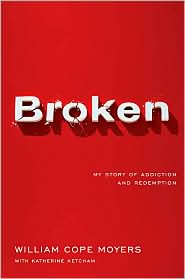 Author William Cope Moyers
discusses his book
"Broken: My Story of Addiction and Redemption"
The son of famed journalist Bill Moyers discusses his book "Broken" which chronicles his struggle with addiction to crack and his recovery. The book came out in the fall of 2006 and has been described as
"A memoir of a terrible disease and one man's spiritual journey through it . . . that should be read by those who have friends or family members caught in addiction." by
The Indianapolis Star.
I saw him speak about this book before, when it first came out, and was quite moved. Definitely recommend this one, especially to those interested in mental health, addiction and recovery.
Montpelier Room, 6th Floor