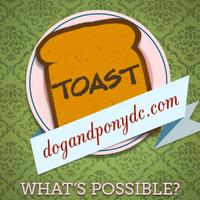 TOAST - dog & pony - Free and Discounted Shows
Saturday, October 11th - Saturday, October 18th
About the Performance - Watch Preview Trailer
!
$10 discount tickets with promo code, others Free!
Promo code FREEiNDC for $10 tickets, normally $17
"Toast
is a participatory-performance-meets-science-fair that explores invention and discovery, the development of technology, and the intricate networks that weave us together. It distills ingredients for innovation and applies them in a multimedia, participatory performance that fully and transparently harnesses the audience as an integral resource for the completion of the show in performance."
"A secret society of inventors invites the audience to collaboratively push the boundaries of our current technology and explore the awesome potential of group innovation."
You will never experience the same
Toast
twice... ever.
Still not sure what to expect? Watch this video trailer
!
Remaining performances below. RSVP online by clicking the links
7:30pm - 9:30pm
$10 tix with promo code FREEiNDC

CHAW - Capitol Hill Arts Workshop
545 7th St SE
Metro: Eastern Market