"Cooking for Peace" with Erica Meier and Sister Gita
at the
Meditation Museum
in Silver Spring, MD
Saturday, November 8th
1:30pm - 3:00pm
Workshop, discussion and vegan food preparation
You've heard the phrase "you are what you eat" but most people think of just the physical effects of food.
Learn more about how our food choices have a greater impact on our well-being and the well-being of the planet at this free workshop with Erica Meier, Executive Director of
Compassion Over Killing
, and Sister Gita of the Meditation Museum. "Learn more about how food choices and food preparation affect our emotions, integrity and health and the ethical impact on animals and the environment."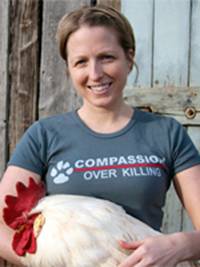 Erica Meier has served as the Executive Director of
Compassion Over Killing
since 2005. She has taken the organization to new
heights with continued growth and accomplishments for animals. Vegan for 20 years, Erica has been working in the animal protection field since college. In 2013, she was honored with the prestigious
Animal Rights Hall of Fame Award
.
If you haven't been to the Meditation Museum before, this unique space hosts lots of free workshops and events and also
features a unique art museum
with pictures, posters, paintings and sculptures, designed to remind us of our true, highest selves and our responsibility to humanity.
To see a list of upcoming free workshops and events at the museum, please visit their website at
MeditationMuseum.org
. You can also stay connected to the museum and their upcoming events through
Meetup
,
facebook
and
twitter
.
The Meditation Museum
8236 Georgia Avenue
Metro: Take the S2 or S4 bus toward Silver Spring to the last stop, on Wayne near Georgia, from anywhere along 16th St or take the Metro to Silver Spring, (see
walking map)
walk north on Colesville and keep right on Wayne, walk up to Georgia, turn right on Georgia and the Meditation Museum is just a block and a half down on the right side of the street. Driving? There is a large garage with metered parking (free on weekends and after 7:00PM on weekdays) one block away at 1101 Bonifant St, Bonifant-Dixon - Garage 5/55- on the same side of Georgia Avenue as the Museum. Note: Please do not park in the Pyramid Atlantic Parking lot next door to the Museum as this is a private, towing enforced, lot for Pyramid Atlantic customers only.