More events for Saturday, April 26th!
Free Outdoor Yoga in Meridian Park
Upper level of the park in the grassy area!
12:00pm - 1:00pm
Free, donations appreciated
From the invite: "A Practice With Love donation-based class in Meridian Park; so you can both tune in to your breath and also into nature and the city around you. Vegan baked goods and lunch items made by the Made With Love Kitchen Project will be available before and after class, as well as With Love DC tanks and post cards. Bring your mat, water bottle, and a smile. Suggested donation $8-10. Can't make it to this gathering? Check out our other outdoor donation-based yoga events for spring 2014
here
."
Malcolm X/ Meridian Hill Park
between 16th & 15th St NW and Euclid
Upper level of the park in the grassy area
Metro: Columbia Heights or take the S2 or S4 bus which runs along 16th St to Euclid.
Health Equity Drum Circle: Drum Beats for Health and Wellness at Maryland Day at the University of MD
12:00pm - 3:30pm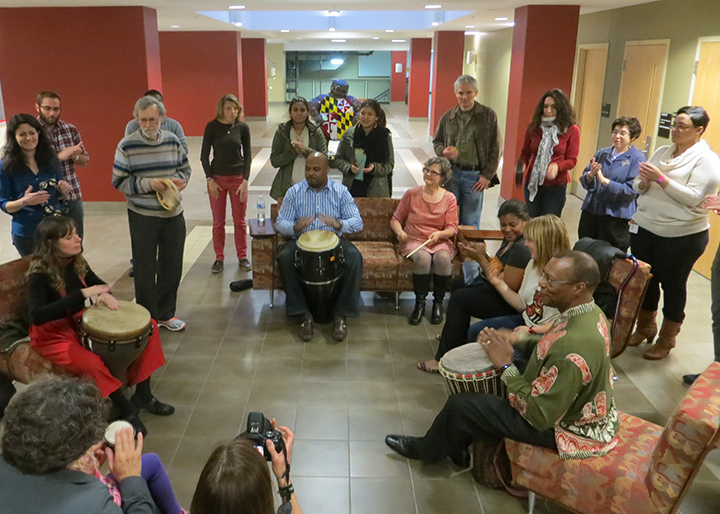 Free,
RSVP here!
From the invite: "Our Fearless Idea is to mobilize over 1,400 hand drummers - experts, novices, adults, children and entire families - from across the campus, the state and the region to create an awesome hand drum circle designed to raise awareness for our goal of health equity for all."
Learn more here
How to be a Professional Amateur with Paul Shortt
2:00pm - 4:00pm
Free!
Transformer
in collaboration with the DC Library Foundation presents a workshop led by Professional Artist and Amateur, and Atmosphere artist Paul Shortt, exploring the condition of being a professional through group exercises and activities. This workshop was presented July 2013 at the Ullens Center for Contemporary Art. Click
here
for more information about the project.
DC Northeast Library
330 7th St NE
Metro: Union Station or take a
bus
closer