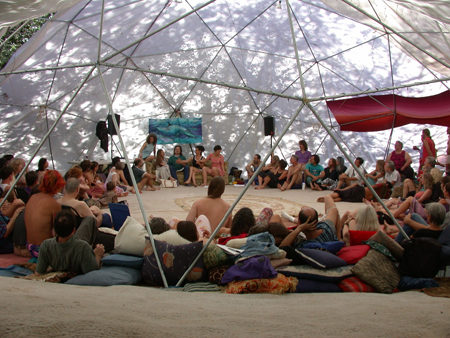 New Culture Summer Camp East - Main Dome
Intimacy & Compassion: Tools for Creating a New Culture
at Chrysalis Community, Arlington VA
with Sarah Taub and Indigo Dawn Wednesday, February 22
7:00pm - 9:30pm, doors 6:30pm
Free, donations welcome $5 - $15
suggested
No RSVP is necessary, but they'd appreciate if you send an email or RSVP on the
event's Facebook page
. If you need address, directions or parking information (there is no parking right in front of the house), email va@cfnc.us and they'll send them along. You can also email any questions. Light snacks will be served-- feel free to bring a snack contribution.
How do we turn our dreams of love and harmony into powerful, long-lasting connections? Conflict is inevitable, but broken relationships are not. Let's practice a core skill for creating a "New Culture": Radical Intimacy is made possible by Radical Compassion. New Culture comes out of examining every aspect of our existing cultures and experimenting to find out how to create a world based on love and freedom, rather than fear and violence. At this evening's workshop, we will explore New Culture values through intimacy games and deep conversation. There's more information about
New Culture
at the bottom of this announcement. Feel free to invite friends who might be interested.
Note: A number of people in the community are sensitive to fragrances and other chemicals, so please don't wear perfume, cologne, or other scented products, including "natural" scents. The house is pet-free, so no worries for people with pet allergies.
What is New Culture? "New Culture" is about creating sustainable, rich, intimate personal relationships, along with a sustainable world to enjoy them in, based on transparency, delight, freedom, and community. In order to create a New Culture in our lives and in the larger society, we put on events that help us develop the skills we need to make that real, including communication, self-knowledge, presence, conflict resolution, and effective activism.
These events can be an evening or weekend, and some last 10 days or more, so that we can "live" New Culture and turn new skills into daily practices. You can see descriptions of many of the 4 day and longer events on the Web: Cascadia Camp (Washington State, June/July),
Summer Camp East
(Mid-Atlantic, July);
Summer Camp West
(Oregon, August,); Winter Camp Hawaii (January), and more
here
.
Along with building community skills, the New Culture community asks questions about what a healthy, violence-free culture might look like – for example, how do we raise children? How do we care for elders? What might intimate relationships look like? What's an ethical and sustainable way to grow our food? We have lots of questions and not too many answers. The fun part is looking at these issues together and trying out possible solutions while we practice being non-attached, curious, and transparent and also being playful, creative, and connected. We have no gurus and no dogma – a diversity of opinions is welcomed and appreciated.
Reminder: You'll need to contact the organizer by phone or email to get the exact address and directions for parking if you plan to drive. Email va@cfnc.us or call 703-534-2298. If you need a ride from the metro, they may be able to coordinate or you can take a bus from the metro close by or uber or lyft, see promo below. You'll easily be able to get a ride back to the metro if you need.
.
Chyrsalis Community - Arlington, VA
N Arlington Mill - off of Wilson Blvd
Please email or call for exact address
Metro: This location is just under 2 miles from the Ballston Metro, located close to Seven Corners as well, just off of Wilson Blvd. You can catch a
bus
from the Ballston metro that runs along Wilson to N Arlington Mill Drive or call Micheal and Sarah to see if someone might be able to pick you up at the Metro. It's also not too far if you want to hop a cab, uber or lyft, and someone can easily drop you back at the metro.
You can also take uber or lyft from the metro. New users with smart phones can download
uber
and
lyft
apps and get $10 off your first
lyft
ride with promo code FREEINDC10 and $20 off your first Uber ride with the promo code FREEINDC14 when you sign up here:
uber
- Note: Be sure to select uberx or uber pool (shared ride with people en route) for best price if you're not in a hurry!