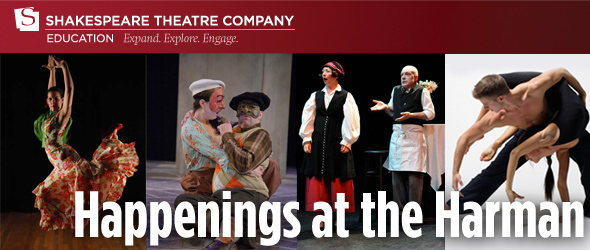 Free Performances on Wednesdays as part of "
Happenings at the Harman
"
every Wednesday at noon + New Monthly Happy Hour Shows
at
Shakespeare Theatre's Sidney Harman Hall
in Chinatown
"Happenings lunchtime performances...Bring your lunch and we will bring your shot of culture!" Check out one of DC's best Free Performance Series every Wednesday at noon and every second Wednesday at happy hour! Performances are usually somewhere between 30 minutes and 50 minutes, sometimes with an opportunity for the audience to chat with the performers afterwards. For lunchtime performances, feel free to bring your lunch along to the show!
New this season, free monthly happy hour performances in addition to the weekly lunchtime ones. Super convenient location, across the street, to the left, from the Gallery Pl Metro, Arena exit at 7th & F St. Stay connected with
STC
on facebook!
Save the date for these Happenings in May!

Wednesday, May 22nd
Congressional Chorus
Celebrating the spirit, diversity and power of American choral music has been the mission of the Congressional Chorus since its founding in 1987.

Note: No Happenings on Wednesday, May 29th due to the Memorial Day Holiday Weekend
Monthly "Happenings Happy Hour" - usually on 1st or 2nd Wednesday - Final one of the season:

Wednesday, June 12th
Forum Theater, downstairs
Metro: Gallery Pl - Chinatown, just across the street, to the left from the arena exit