Here are some more great free arts and culture events from CultureCapital.com! This site is a fantastic resource for events provided by
CultureCapital
(formerly known as the Cultural Alliance of Greater Washington) a wonderful organization that supports and highlights the DC metro area's vibrant and diverse arts community! See the
"Free in DC" Inside Out
page on
CultureCapital.com
for a list of exhibits on view! Plus,
CultureCapital.com is now on
facebook
.
Friday, June 27th
Late Afternoon - Classical Concert Broadcast at the Goethe - Gallery Pl - Chinatown
Berlin Philharmonic with Sir Simon Rattle: Digital Concert
3:00pm - 5:00pm
This monthly series presents streaming performances, some live and some hand-picked from the archives of the Digital Concert Hall, of The Berlin Philarmonic (Berliner Philharmoniker) in the ambience and surround sound of the GoetheForum. Watch principal conductor Sir Simon Rattle and acclaimed guest conductors take up the baton, captured by six HD cameras controlled from inside the video studio in the Berliner Philharmonie.
Goethe-Institut
812 Seventh St NW
Metro: Gallery Pl - Chinatown or take the
Circulator
bus to 7th & Mass and walk south on 7th
Evening - Opening Reception for new Exhibit at Flashpoint - Gallery Pl - Chinatown
Sonya Lawyer: A Peace (of the Dream)
6:00pm - 8:00pm
A Peace (of the Dream)
is an exhibition of vintage images celebrating color, design and texture overlaid with a narrative of family stories, personal memories, and universal truths. Sonya Lawyer will weave together images of men, women and children from the past and present. The exhibition will also incorporate music, spoken word and gallery visitors' personal stories and photographs.
Flashpoint Gallery: CulturalDC
916 G St NW
Metro: Gallery Pl - Chinatown, musuem exit at 9th & G St
See
"Free in DC" Inside Out
page for more events + connect with
CultureCapital.com on
facebook
Saturday, June 28th

Early Evening - Art Event at Brentwood Arts Exchange - Brentwood, MD
5:00pm
Project America's Next Top Master Artist jumps into the 3rd and final round with "Face the Judges Night." Our esteemed judges panel - Jose Dominguez, Tuliza Fleming, and Gerald Ross - will ask each artist questions about their artwork in front of you, our live studio audience. Find out how each artist works, what inspires them, and how they see their own work before you cast your final vote to crown America's Top Master Artist. Judges' questions start at 5:30pm.
Brentwood Arts Exchange
At the Gateway Arts Center
3901 Rhode Island Ave - Brentwood, MD
Metro: See
metro trip-planner
for best bus access from metro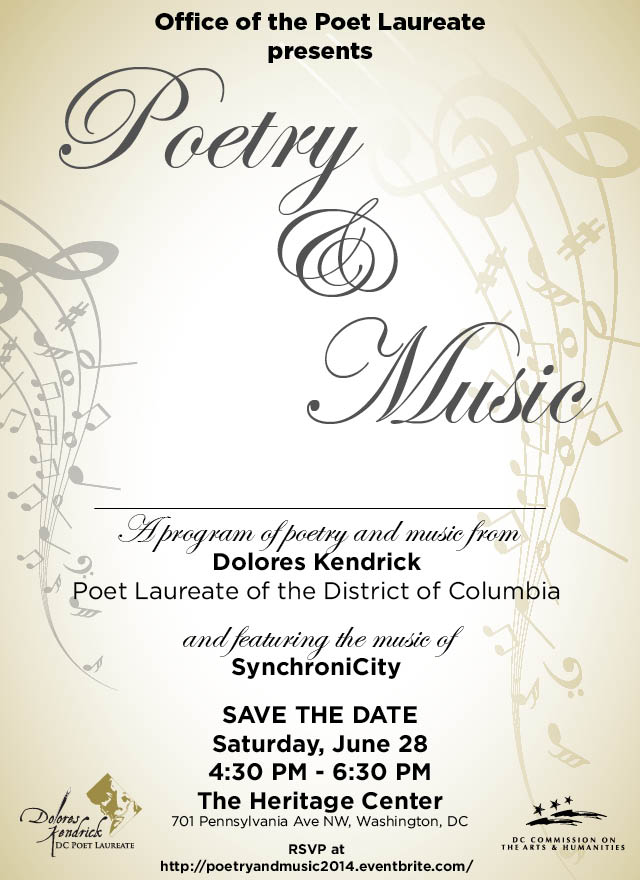 Early Evening - Poetry and Music with DC Poet Laureate - Archives
Office of the Poet Laureate Presents Poetry and Music
4:30pm - 6:30pm
RSVP
Requested, not sure if it is required
A program of poetry and music by Dolores Kendrick, Poet Laureate of the District of Columbia and featuring the music of SynchroniCity. Reception to follow afterward. Note: RSVP does not guarantee admittance. Entry is on a first come first serve basis. Presented by
DC Commission on the Arts and Humanities
.
Heritage Center at Navy Memorial
701 Pennsylvania Avenue, NW
Metro: Archives, just to the right when you exit the metro
Evening - Special Evening Orchestra Performance - Silver Spring, MD
Montgomery College Performing Arts Center Silver Spring
7995 Georgia Avenue - in Silver Spring, MD
at the Cultural Arts Center, Montgomery College
Metro: Silver Spring, walk down either Georgia Ave (
walking map
) or East West Hwy to the point where the two roads meet, about a half a mile from the metro, about an 11 - 13 minute walk.
Sunday, June 29th


Poets Katy Didden and Stephanie Strickland
Emerging Writer Fellowship recipient Katy Didden reads from
The Glacier's Wake
. She is joined by visiting poet Stephanie Strickland, who reads from her recent book,
Dragon Logic
. The reading will be followed by a reception and book signing.
The Writer's Center
4508 Walsh St - Bethesda, MD
Metro: Bethesda, elevator exit is closest, cross over to walk south on he left side of Wisconsin, Walsh is accessible only from that side, about a seven minute or so walk from the metro
Afternoon - Choral Festival at Strathmore - Grosvenor, MD
Serenade!
4:00pm performance, line forms at 3:00pm
Featuring the Best of Serenade! and massed choir finale conducted by Grant Gershon, L.A. Master Chorale. Ensembles include the Yale Alumni Chorus (USA), Konevets Quartet (Russia), Fairfield County Children's Choir (USA), Arishi (Georgia), Ondrasek Czech Youth and Children's Choir (Czech Republic), Wishful Singing (The Netherlands) and Insingizi (Zimbabwe).
Strathmore
5301 Tuckerman Lane - North Bethesda, MD
Metro: Grosvenor, walk across the street, to the left when you exit the metro, or take the bridge across from the garage, Strathmore is on the right