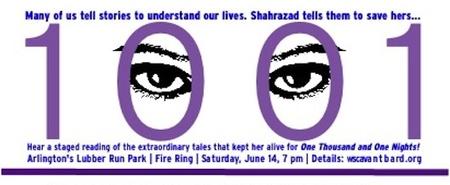 WSC Avant Bard
presents an outdoor reading of
"1001 Nights" at Lubber Run Park
in Arlington, VA as part of the Gaurav Gopalan Free Reading Series
Saturday, June 14th
7:00pm - 9:00pm
Free
WSC Avant Bard
presents an outdoor theatrical reading of selections from "One Thousand and One Nights" at Lubber Run's Fire Ring in Arlington, VA as part of the Gaurav Gopalan Free Reading Series. "Many of us tell stories to understand our lives, Shahrazad tells them to save hers." Come discover the extraordinary tales that kept Shahrazad alive for 1001 nights! Adapted for the stage by Hanan al-Shaykh & Tim Supple. Directed by WSC Avant Bard company member Lynn Sharp Spears, who brought her thrilling rendition of Beowulf to the Lubber Run Fire Ring last June!
The tales will be enlivened by musical accompaniment in this special staged reading under the stars; picnic baskets and blankets are strongly encouraged.
Be sure to also check out this list of additional
Free performances June 13th - August 17th
Fridays & Saturdays at 8:00pm
Sundays at 6:00pm (or as noted)
(two blocks north of Rt. 50) Arlington, VA - see
map
Metro: Ballston, just under a mile walk from the metro, see
walking map
, about 19 minutes according to google maps, about a 7 minute bike ride, see
bike map
, or a short taxi ride. You can also catch the #4B or #4E
bus
to Park Dr and N 2nd St.