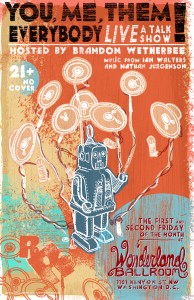 You, Me, Them, Everybody Live!
and the first and second
Friday of the month
8:00pm
Come out for a live talk show - You, Me, Them, Everybody hosted
by Brandon Wetherbee.
Guests this week include: Cale Charney from
Brightest Young Things
and stand up comedian Valerie Paschall.

Music from Ian Walters and Nathan Jurgenson and a special set from The Public Good. Former members of the Popes, "1 part Replacements, 2 parts tequila, and a dash of The Monkees."

1101 Kenyon St, NW
Metro: Columbia Heights