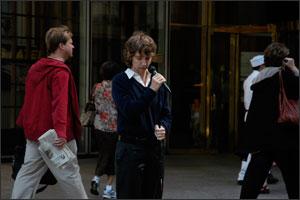 Sharon Hayes, Everything Else Has Failed!
Don't You Think It's Time For Love?, 2007.
Courtesy the artist and Tanya Leighton Gallery. Photo: Andrea Geyer.
American University Spring Arts Colloquia presents
the final presenter in the series
Broadly Speaking: Working Across Disciplines,
with artist Sharon Hayes
Thursday, March 29th
6:00pm - 8:00pm
Free
Come see Sharon Hayes as she discusses her use of multiple art mediums, including video, performance, and installation.
"
Broadly Speaking: Working Across Disciplines
brings together four artists whose interests and creative work transcend the tradition of working in a single medium. These dynamic individuals pursue their creative ideas by exploring multiple strategies of art making as a means of expressing their visions (or point of view). By combining practices, these artists emphasize concept over their commitment to medium, creating surprising bodies of work that illuminate the richness and diversity that defines contemporary artistic practice today."
"Sharon Hayes is engaged in an art practice that uses multiple mediums—video, performance, and installation—in ongoing investigation into various intersections between history, politics, and speech. Her work is concerned with developing new representational strategies that examine and interrogate the present political moment, not as a moment without historical foundation but as one that is always allegorical, a moment that reaches simultaneously backwards and forwards. To this aim, she employs conceptual and methodological approaches borrowed from artistic and academic practices such as theater, film, anthropology, linguistics, and journalism."
American University
Abramson Family Recital Hall
at the Katzen Arts Center
4400 Massachusetts Ave, NW
Metro: Tenleytown, and take the free AU shuttle bus from the metro to the Katzen Center