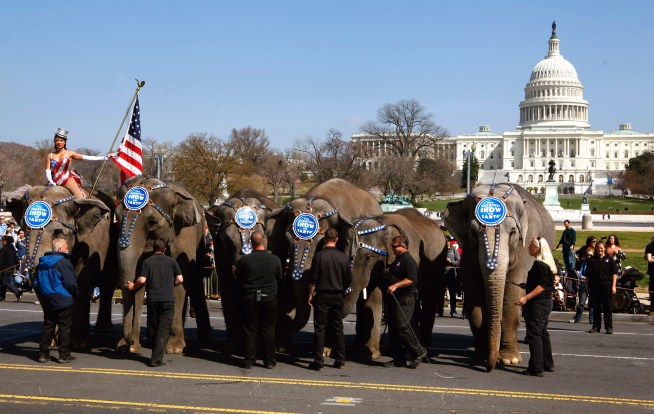 Elephants to Amble Through Downtown DC
on their way to the Verizon Center for the Circus! This year they'll move at night.
Tuesday, March 13th
8:00pm - 9:00pm
Free
"This is the only time of year when downtown traffic is remotely interesting... primarily because, for one evening, that traffic consists of elephants." Note: This year's parade is set for Tuesday, March 13 at 8 p.m. -- so, no, it won't mess with rush hour.
"The annual
Pachyderm Parade
marks the arrival of the
Ringling Bros.
and Barnum and Bailey Circus in the District. The elephants stroll into town as part of a parade that includes clowns, motorcycles, horses, donkeys and,
rumor has it
, a watusi. (A
watusi
is basically a really, really awesome-looking breed of cattle.)" You can also follow parade info on Twitter
@DCElephantWalk
.
Prior to the parade, from 5:00pm - 7:30pm, some local bars and restaurant - including Carmine's, Co Co. Sala, Graffiato and Ping Pong Dim Sum - will be offering happy hour specials. See the
complete list here
.
The Ringling Bros.Circus
is in town
at the Verizon Center from March 15th - 18th before heading to Baltimore from March 21st - April 1st, and to Fairfax from April 4th - 15th.
Parade Route: The Parade will begin around 8:00pm at Virginia and New Jersey Avenue, SE at Garfield Park and will travel west on Independence Ave, SW, north on 3rd Street SW/NW, and arrive on G Street NW at the Verizon Center around 9:00pm.
Metro: Capitol South, start point and Gallery Pl - Chinatown, end point.