UDC International Urban Sustainability Summit
Friday, April 27th
8:00am- 8:30pm
Free,
RSVP
Required
View the
schedule
of events
The event will bring together experts, grassroots leaders and members of the community who are interested in exchanging information and finding out more about fair and equal access to healthy food options in the urban environment. The Friday session will occur at the UDC Fine Arts Theater and feature a variety of speakers and panelist, including Will Allen of Growing Power, followed by a mini-film festival.
UDC Fine Arts Theater
4200 Connecticut Avenue, NW
Metro: Van Ness/UDC
NEXT at the Corcoran Gallery Talk: Design Lab
Friday, April 27th
11:00am
Free,
RSVP
is recommended
Corcoran curators and staff moderate talks with selected students. Hear the students discuss their thesis projects in the fields of design, fine art, and photography, and learn about the process behind the design of NEXT from Corcoran Design Lab students.This talk is mdoerated by Maria Habib, Director of Design. Talks take place within the NEXT exhibition galleries and will meet in the Corcoran's center Atrium.
Corcoran Gallery of Art
500 Seventeenth St, NW
Metro: Farragut West or Farragut North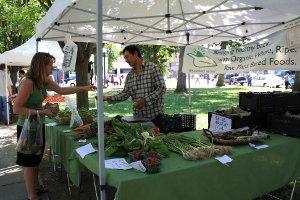 U.S. Farm Bill 2012: Policy & Potential
Friday, April 27th
9:30am - 6:30pm
All ages, Free, RSVP for Sustainable Lunch
This daylong symposium (see the
facebook invite
) explores the vast national and international implications of this policy - and its potential for cultivating socially just and ecologically sustainable agri-food systems. The symposium events are free and open to the public with the exception of the Sustainable Lunch, for which
tickets
can be purchased. Keynote Speakers: Rep. Chellie Pingree (co-sponsor, "Local Farm, Food & Jobs Act") Michael Scuse (Undersecretary of Agriculture, USDA) Dan Imhoff (Author of Food Fight: The Citizen's Guide to the Farm Bill and CAFO: The Tragedy of Industrial Animal Factories)
American University, School of International Service
Founders Room
4400 Massachusetts Ave, NW
Metro: Tenleytown, take the free AU shuttle to campus
PETALFEST Closing Concert for the Cherry Blossom Festival
Friday, April 27th
5:30pm - 8:00pm
Free, come early if you want a good view
The 5-week spectacular Centennial Celebration of the Cherry Blossom trees officially comes to a close this Friday, but not without one last fantastic free event. PetalFest Closing Concert will feature live performances by The Family Stone and Chelsea Green. This year's National Cherry Blossom Photo Contest winners will be announced at the event!
Woodrow Wilson Plaza
1300 Pennsylvania Avenue, NW
Metro: Federal Triangle