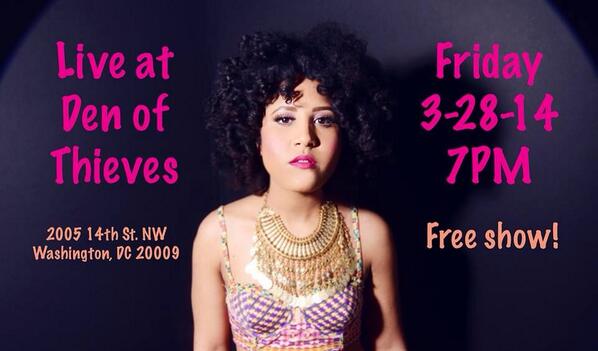 DC-based Acoustic Pop Soul vocalist & songwriter,
Cecily Alexa
performs at
Den of Thieves
on 14th St, former Hanoi House
7:00pm
Free
Den of Theives
2005 14th St NW
Metro: U St or take the Circulator bus to 14th & U or any bus along 14th or U St
Conscious Film Night at Samsara House 2023, "Yogawoman"
7:00pm - 11:00pm
film starts at 7:00pm so please arrive a bit earlier
donation, $6 or more to benefit the filmmakers. $1 to Samsara House 2023
"Yogawoman" (84 min docu-film,
view trailer
) screening sponsored by The Peace Circle, DC Wellness Tree, On Purpose Network and Samsara House 2023. The film will be followed by a group dialogue.
"Yogawoman" is a groundbreaking feature film about the powerful impact of yoga on women's health, fitness, emotional well-being, and personal growth. In record numbers, women are finding strength, vitality, peace and power through yoga. Reclaiming this ancient spiritual path from its traditionally male form, the result is a radical transformation of modern yoga as we know it.
Samsara House 2023
36 R Street NW
close to the intersection of Florida Ave & North Capitol
Metro: between Shaw and NoMa, about a 12 -15 minute walk from either. You can also take a number or
buses
, see metro trip-planner, house is just a half-block from Big Bear Café. You can also take the 80 or P6 bus from Chinatown to North Cap & R Street NW.
Bring your Bike and join in the ride!
7:30pm - whenever it ends or you decide to leave
Free
Critical Mass - DC
hosts another bike ride. Please bring your lights, helmet and your smiling face. There will be a bit of a soiree at the end of the ride, so if you want to join in bring your ID and some $ if you want to hang out after. Questions, see the event page or contact the organizer.